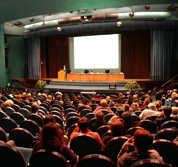 Speaking Engagements
Bring us in to inspire, uplift or educate your group! We can tailor our presentation to your needs on a variety of self-empowerment topics, such as tapping into intuition, understanding the Law of Attraction, releasing stress and building confidence, quieting the mind using the power of meditation, attracting your best life, and many more.
Inspirational Talks
If your group or team needs a boost in morale or if you just want to treat them to something uplifting then an Inspirational Talk might be the answer. Talks can be custom-tailored to meet specific needs or can be general in nature.
Educational Talks
If you're wanting your group or team to become more positive and empowered then an Educational Talk might be the answer. This talk is more interactive than an Inspirational Talk and engages the audience with fun activities to teach new ways of thinking. Focus is always on self-empowerment through improved thoughts.
Although not a requirement, we can also add training in the basics of Law of Attraction in order to further improve chances for success.
For more details or to schedule a speaking event, please connect with us using our Contact page.
Current Schedule
| | |
| --- | --- |
| Event: | No public speaking events are currently scheduled |
| Speaker: | Suzanne Young |
| When: | N/A |
| Price: | N/A |
| Location: | N/A |
| Attend: | Click HERE to Register! |