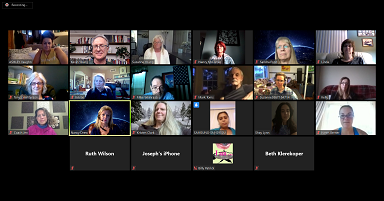 Facebook Group
Our private Facebook group is a great way to get to know other intuitives around the world, receive and give support, and learn new tips and tricks!
We also hold online support events via Zoom video where we talk about what's going on in our community and how to improve our experience of intuitive life. You can watch recordings of past events from the Videos section of the page.
Our group is designed to be safe, supportive, and enjoyable.
Requesting Membership
To join our Facebook group:
Log into your Facebook account
Visit our page HERE
Answer the questions (all must be answered)
Agree to the group guidelines 
You will be notified when you are accepted!
Facebook group questions
Question 1:  What is your primary intuitive gift that you'd want to develop in the group (ie, medium, channel, psychic, etc)?
Question 2:  What would you most like to get from the group?
Question 3:  What do you feel you can bring to the group?