Ramona Galey
Intuitive Channel and Coach
My latest adventure is into the world of channeling! Right after an Abraham Hicks workshop in Asheville, I started receiving and translating messages from a loving collective of higher consciousness beings who call themselves ōPRA.
ōPRA and I help seekers get even happier through gaining clarity of purpose, increased abundance, healed relationships, and a release of resistance.
The Divine messages that my clients receive from ōPRA in response to their personal questions have provided unbelievable benefits and, in many cases, explosive growth and leaps forward in clarity, healing and abundance.
About me
I was born and mostly raised in Maryland, and I've lived all over the country. I am now a "snowbird" between Summers in my beloved chalet in the mountains, and Winters in sunny Southwest Florida. Yes, I'm a bit of a vagabond. And I'm definitely a foodie.
I've travelled all over the North American continent, and I've been to over a dozen countries on 3 other continents. I think the more I travel, and the more differences I see in the ways people do things, the more I see that people are still all alike, and the happier I am. My bucket list includes Asia and Iceland, among many other destinations.
I started my professional life as a classical trumpet player, with degrees from Peabody Conservatory in Maryland and Rice University in Texas. I had a deep, abiding passion for my music, and it lasted a good long time, but it finally faded. Now, people and expansion are my passions!
Along the way, I picked up quite a few other titles, including construction estimator, stock broker, systems analyst, lab tech, nonprofit leader, real estate investor, and life coach. All of which pale in comparison to my current spiritual journey!
How I got started with channeling
Many people ask me how on earth I got into channeling, and "did I always know," etc. NO! I was incredibly skeptical my whole life until my beloved Betty died! Then I started listening to Abraham, but I never thought of me having any abilities.
Here's what happened: I went to the Abraham Hicks workshop in Asheville. I met my good friend Shannon there early and we spent a lot of time together, chatting about all sorts of things while hiking around the area. Here we are that day: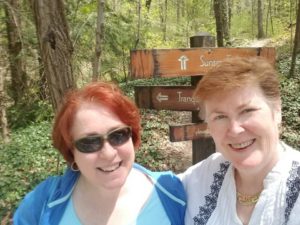 She told me many tales of her recent (amazing!) experiences and the work that her brother Kevin is doing with intuitives. By the end of our day together, I announced that "I want that! I'm going to do that!" I had never seriously considered doing anything like that before, and I had no idea where the desire came from, even that day!
Then during the workshop (which was awesome, BTW!), some friends of ours, Bob & Flora, heard that their property was hit by a tornado, but they didn't leave Asheville until the workshop was over and we spent the weekend playing together and having a really great time! Here we are at an Ethiopian restaurant. SO much fun!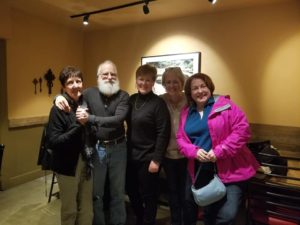 After the workshop, I "just happened" to have a chainsaw that belonged to a friend, so I offered to come over and help clear the damage and downed trees. So we had a grand time throwing a chainsaw party. Here we are after a major day's work:
The 3 of us visited in the evenings and really bonded over amazing shared conversations, and somehow I ended up telling my friends about my plan to learn how to channel, and it turns out they "just happened" to have been following Abraham for decades, so they had no hesitation asking (demanding?!) for me to channel for them, so I did! They literally summoned ōPRA through me. And it was fun. And intense. And very cool. This shot was taken just minutes before my first channeling session:
So by the time I met with Kevin Young (intuitive coach extraordinaire), I had already channeled for a few friends, and he was totally into it, and he was very flexible and very knowledgeable, and next thing I know I'm channeling 1-2 people per day! Then 2-3 people per day! And the rest is history.
How I Started with Abraham Hicks
I had 23 incredibly wonderful, magical years with my beloved partner, Betty. She was a magnificent source of unconditional love for me, and my life blossomed with love and joy while we were together.
In October 2014, Betty had just passed away and I was bereft beyond description. I was fully intending to follow her. I had no spiritual paradigm or beliefs, and I was convinced that my only source of unconditional love had just abandoned me. Why the heck would I stick around? I would not.
Betty's friend Laurdella "just happened" to call right then, and she told me I needed to "stop thinking like that, right now!" I told her I had no idea how to do that, and she asked if I knew of Abraham-Hicks. I didn't, but I knew that if anyone in the world knew how I was feeling, it was Laurdella, since her beloved husband had passed away not that long before, quite "tragically."
So Laurdella explained the basic Abraham concepts, gave me the name of 2 books to get (which "just happened" to be on the shelf at my local library), and Laurdella "just happened" to have 2 years of Abraham subscription CD's that she had never given away out of the 25 years she'd been listening and giving CD's away. So she shipped them to me. And they "just happened" to be the year before and the year after Jerry's death. Which just meant the world to me, because I felt that if Esther could survive the loss of Jerry, maybe I could survive too.
Laurdella and I went to Disney and indoor skydiving that December! That's how quickly I started to heal my life.
Thus began my new adventure, and the ray of hope that Laurdella and Abraham provided was all that I needed. I immersed myself in the teachings by reading, listening, and following the Abrahhm guided meditations. I was always seeking to apply, practice, and perfect every aspect of the teachings in every area of my life. I would not be here today if not for Laurdella and Esther Hicks, and they both have my permanent appreciation.
Here's Laurdella and me at an Abraham Hicks cruise a year and a half later.
Here are just some small tastes of the wonderful friends I've made, and the incredible experiences I have had, all over the world, because of my involvement with Abraham Hicks. Alaska, Australia, Greece, Barcelona, Venice…the list goes on and on!
What It's Like to Receive ōPRA
When I am receiving ōPRA, I feel so much love coming from them that sometimes it completely overwhelms me. They love all of us SO MUCH that sometimes it makes me cry, and shake, and have trouble breathing. Their magnificence is hard to describe. They are effervescent, yet incredibly gentle and kind. They are immense beyond belief, yet they joyfully see the infinite nature of each of us.
They are all-knowing, yet consummately patient with me as I seek to put their knowledge into words, as well as with the questioner who is seeking to understand. In fact, they are so patient that they often feel like nothing, like no thought. Like I imagine deep space must feel like. Timeless. The only physical experience I have had that comes close is when I went tandem skydiving. I literally had no thought, no observer in my head, no sense of where I stopped and the world started. This is how ōPRA feels to me.
I am deeply humbled by the experience each time I receive ōPRA and I feel that so many aspects of my life have been completely healed by my interactions with them. I fervently wish the same healing and understanding for each of you, too. It is a serenity and an excitement that defies description! And we are just getting started!
Since my reading/session, I've been feeling a lot of internal, subtle changes… I've been doing a lot more resting, meditating, feeling, trusting, not looking so much at what-is, and daydreaming more… It all feels so good, and it started with my session with you and ōPRA!
Wow, you've got it girlfriend!  I was very receptive and open to whatever you might express, and ALL of it felt just…right.  I felt the wisdom, the humor and especially the love.  BIG LOVE.  Without a doubt it all came from a high vibration; so authentic.  I felt so fortunate to be able to experience all of it, with both of you, and the other participants.
I just wanted to say thanks again for today's session; it was amazing and I look forward to hearing the recording. I have been to probably 50 Abe seminars over the past 15 years and this was every bit as powerful as any of them. Additionally, the small group size is much less intimidating than being in the chair in front of 800 people and allows much narrower targeting of individual situations. I am very much appreciative of the time you have both spent in this endeavor and am amazed at how far you have come.
Current Event Schedule
Gallery Channeling with Ramona Galey and ōPRA
Join us for a live Internet event where Ramona Galey will provide a gallery-style, Q&A channeling for the audience. She will be channeling, ōPRA, a loving collective of higher consciousness beings. Attendees will have the option of submitting a question to be answered which can either be asked interactively or submitted in the chat window. We can't guarantee we will get to all questions but will get to as many as possible.
All events will be held over Zoom video conferencing software. You'll be able to connect with your computer, smartphone, tablet, or dial-in phone.
Upcoming dates:
---
USA: Thu, July 25, 2019 [7 PM – 8:30 PM EST]
London: Fri, July 26, 2019 [12 AM – 1:30 AM BST]
Australia: Fri, July 26, 2019 [9 AM – 10:30 AM AEST]
---
Book a private session
Private sessions are available when you're ready to have a one-on-one session with Ramona and ōPRA.
You can ask any questions and ōPRA will provide answers that are lovingly direct, relevant, and specific to your current situation.
No questions are off limits.
You will receive a recording of the session afterwards.
All sessions are confidential.
Sessions will be held using Zoom video conference.
Cancellations less than 24 hours in advance are non-refundable.
Preparing for your session:
Prepare your questions in advance but remain open to where the conversation might lead.
Choose questions that are most important to you right now.
Set your intention to have a good experience and relax into the experience!
Schedule a 60-min Session – $125 USD


*** July special – save 20% on channeling packages!
Buy 3 x 60 min Package (save $50) – $325  $260 USD


Buy 6 x 60 min Package (save $100) – $650  $520 USD


Buy 12 x 60 min Package (save $200) – $1,350  $1,080 USD

For questions about private sessions, please contact us HERE.
Check out our videos on YouTube!
If you'd like to see Ramona and ōPRA in action, check out some of our free session clips on our YouTube channel.
Please click the Subscribe button on our YouTube page, and Like and Share our videos if you enjoy them!
Here are a few examples: